Three Days, Three States, Three Countries by Beorn the Bikepacking Wonder
In which I take Beorn of the Gus Boots Willsen Clan on his first bikepacking adventure expotition and he surprises me with his epic land-travel speed via a fog teleportation experience that saw me in Colorado, Scotland, Tibet, the Pacific Northwest, back to Colorado and briefly to Arizona, being at once more epic and less epic than I'd thought. Life, with its holy extraordinary wrapped in its everyday ordinary is like that a lot. Grin.
Into the Wilderness, for the more spiritually inclined.
Climbing up from Eleven Mile Cañon.
Beorn of the Gus Boots Willsen Clan in Expotition mode.
Nearly to camp, night one, climbing Wagon Tongue (there are at least two of them on this trip, go figure). Having gears allows for more efficient pedaling, so I arrived here fresher and sooner than I did last year. I changed some of the route after this, but still noticed on the same climbs that I had to LCG by fixed gear last year I was in first gear this year. That seems to me an indication the gearing on both bikes is just right. Grin.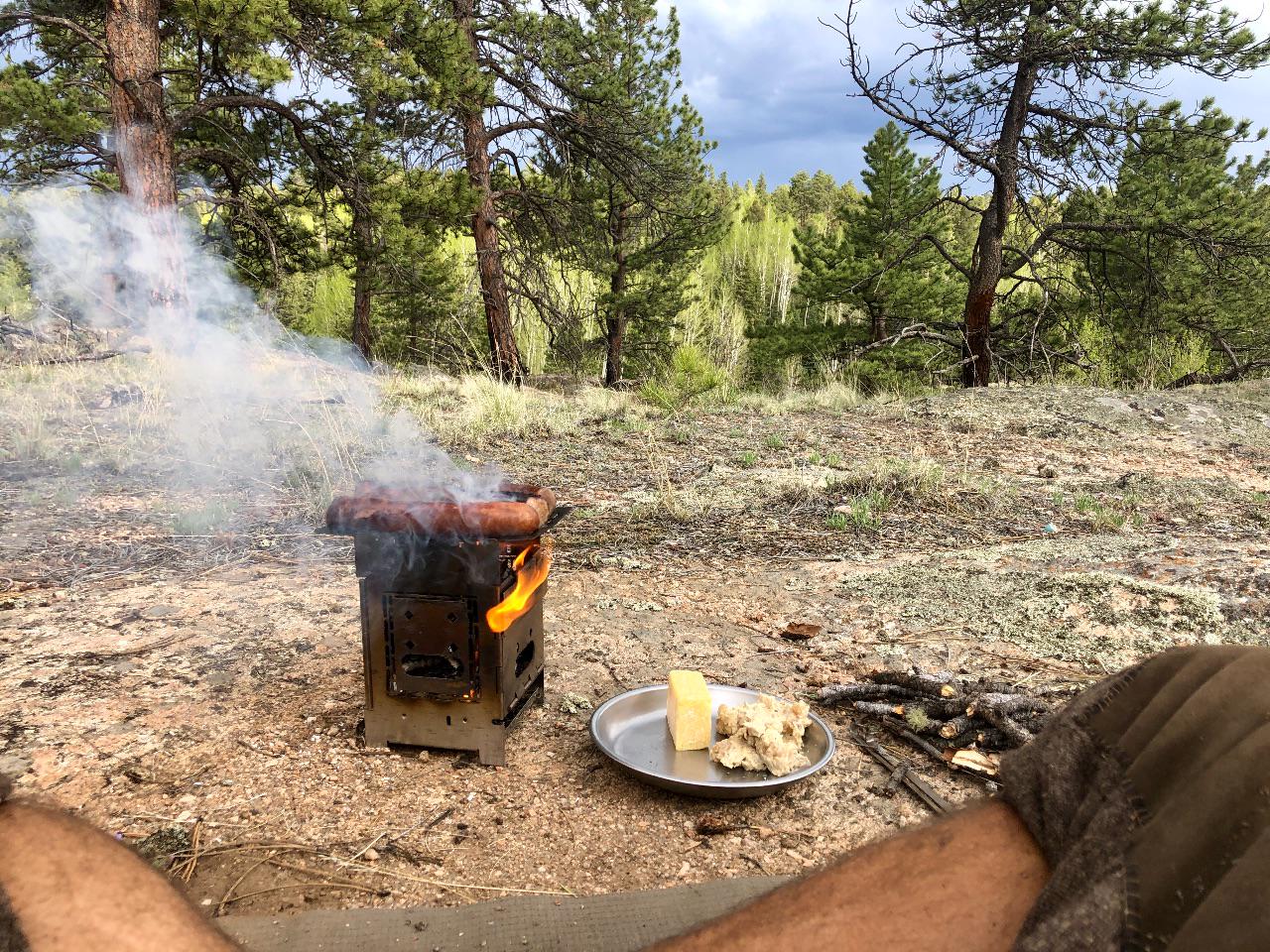 I decided to bring my FireBox and brats for when conditions allowed. They did on the first night (too windy subsequent nights, without a clear spot), and the result was delicious!
Morning departure.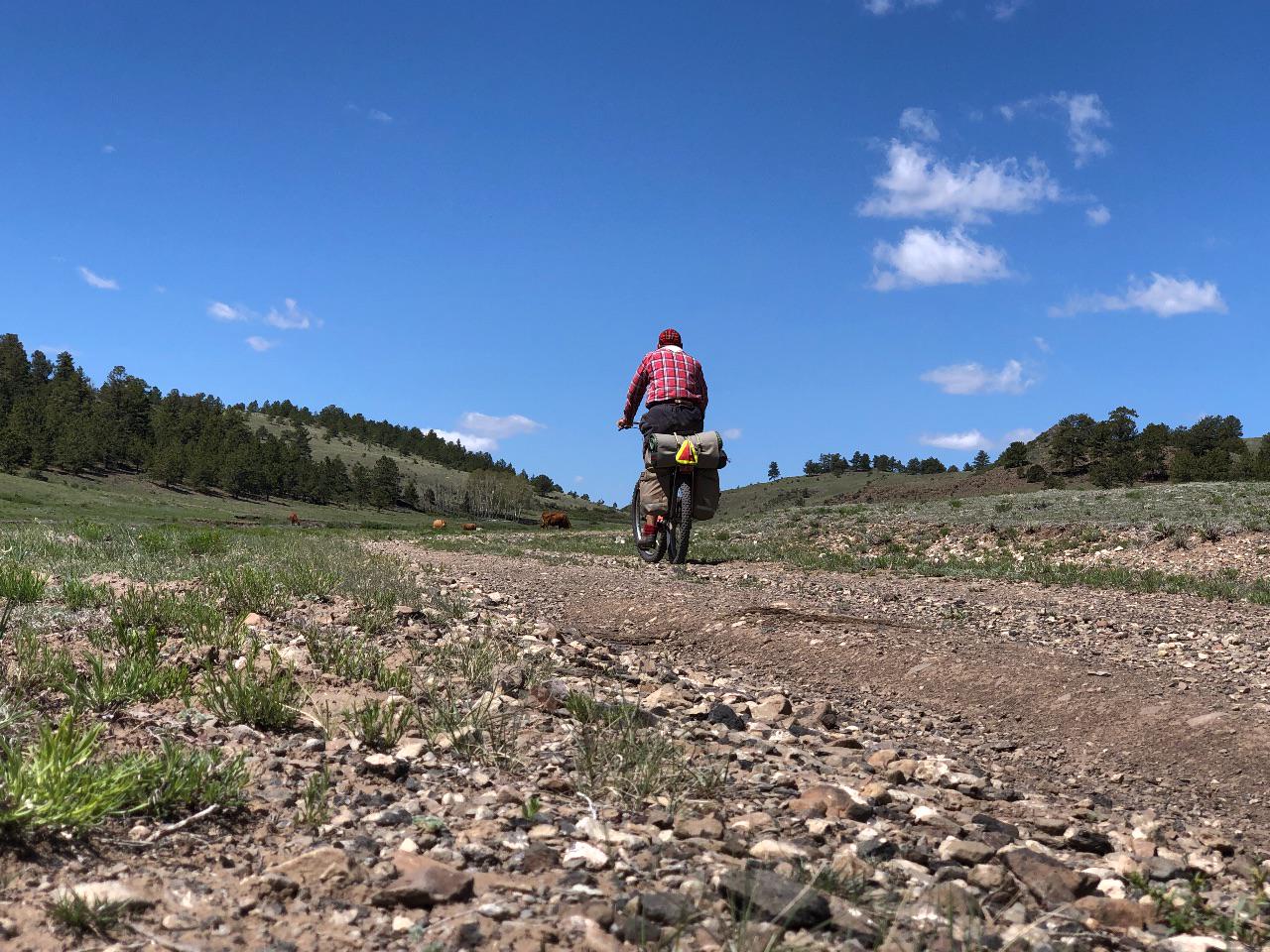 Sorting bikepacking routes is more challenging than you'd think. The goal is to ride remote roads and trails, which, by definition, map companies (both analog and digital) often make errors on. This was the second one I found attempting this route (the first one, the road didn't go through). Part way up this climb was the sign "Road closed ¼ mile" ...
... I kept pedaling, presuming the usual-but-not explicitly added "to motor vehicles." Nope. Private property gates, with motion trigger cameras, and warnings against trespassing involving the barrel of a gun. I waved to the camera then backtracked, looking down at Eleven Mile Reservoir as seen here, five miles to the only other option, which...
... worked! Longer, except in the sense that it goes through, so shorter. Life is like that a lot. Grin.
My reward for persistence in finding a route over the course of three different trips? Amazing upper rolling mountainous ridge running from Eleven Mile Cañon to Salida with views that ... well, you'll see. The roads roller coastering the top are rough. I was nearly as fast climbing them as the 4x4's that slowly passed me up the initial long climb, but then faster than them by far on the descents. Back and forth, back and forth. I tried to shake them, but either I caught them up, or they caught me up. Fortunately they were not the noisy kind. Beorn and his Schwalbe Nobby Nic 2.8" tires were brilliant with load on all surfaces, from asphalt to deep, newly plowed up and thus foamed alpine loam, to jagged flint technical rock and root riding with nary a pause ... all with amazing handling of the 110 pound load (with 7 liters of water and 7 days of food) because those long chain stays are smooth and delicious yet still agile.
Here you can see how it is an upper, rolling mountainous plateau ridge. Surely there is a word for such a thing, but I don't know it. Uplands tries but falls short. Undulating Plateau. Closer.
Camp on the undulating plateau.
Rosary on the undulating plateau.
Sunset vista from the undulating plateau. Check your maps next year. It'll be on there. Thirty Nine Mile Undulating Plateau. Because whomever named things in the area was only as creative as the odometer on their wagon tongue.
Sunrise vista from Thirty Nine Mile Undulating Plateau.
Camp on Thirty Nine Mile Undulating Plateau.
I love morning rides in Scotland! The mists caused shifts in space as I rode, transporting me from the undulating plateaus of Colorado to the bonnie highlands of Scotland ...
... to the highland steppe of Tibet ...
... to a remote logging camp in the Pacific Northwest ...
... back to the undulating plateaus of Colorado and an old cabin ...
... soon thereafter I crested a saddle and was greeted with quintessential Colorado. What an amazing way to end the fog teleportation extravaganza! But it wasn't over yet, little though I knew.
This descent took me to the piñon forests above Salida, where I chose to take Cottonwood trail down. Such memory as I have said it was a moderate flowing trail. That was a different trail I'd read about and would not see. No photos because there was nearly nowhere to stop. Steep dropoffs with technical, jagged, flint and granite rocks that demand every ounce of attention to ride on a bike weighing 290 pounds with its 180 rider. The trail looked and felt as I've imagined the photos of the Arizona Trail feeling to ride. The last teleportation trick of the trip. I did stop on a knoll overlooking Salida and called the local bikeshop to ask about getting over the Continental Divide via Marshall Pass. Once they caught their breath from laughing, I learned what they couldn't tell me a few days ago when I'd called and they'd said "I don't know, we just haven't ridden up that way yet": feet of snow remain up there and it will be "a while" before it melts. No continuing on the planned epic adventure to the Plateau Passage Route to Moab, returning via the Colorado Trail ... at least not yet. Persistence, however, shall win, incongruous roads, private gates, smoke from last year's fires, or feet of snow remaining from this years epic snows and slow melt will not prevail! Me Scottish noggin' has too many rocks in it to give way so easily. Grin.
I rounded the bend of the Trail that feels like Arizona and beheld this. What a fitting sight on which to depart, until next Expetition! May God startle you with joy!
---
Subscribe and receive new posts free in the mail!